Rowing 101
What is rowing? Athletes with only one oar are sweep rowers. Sweep boats may or may not carry a coxswain (pronounced cox-n) to steer and be the on-the-water coach. In boats without coxswains, one of the rowers steers by moving the rudder with his or her foot. Sweep rowing is found in different designations as identified below. The eight, which always carries a coxswain, is the fastest boat on the water. A world-level men's eight is capable of moving almost 14 miles per hour.
ROWING BOATS — One oar per rower

What is sculling?
Athletes with two oars
--
one in each hand
—a
re scullers. As shown below, there are multiple sculling designations. The most common are 1x-, 2x- and 4x-. Sculling offers the unique flexibility of being in a boat with other people or alone.
SCULLING BOATS — Two oars per rower

Other designations you might see in a schedule and combined with the designations above: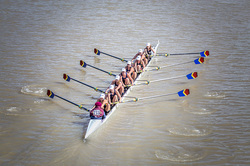 Match Racing Format

Most schools and colleges have a match racing season (spring). This is when two or three schools agree to race side-by-side on a straight, or as straight as possible, course that can fit on the local lake, river, or bay. The boats line up abreast standing still and a referee/starter, when satisfied that the crews are level and ready to start, will give the commands Attention... Go. The boats start from a standing stop and race in a lane either imaginary or marked by buoys for a set set distance. The first boat to reach the finish line is the winner.

The international (Olympic) distance is 2000 meters (1.25 miles). High schools may race 1500 meters and master rowers 1000 meters. The Harvard-Yale boat race begun in 1852 is 4 miles and the Oxford-Cambridge boat race begun in 1829 is 4.25 miles.

A time is usually taken and the margin between the boats is recorded when a flag at the finish is dropped or raised when the bow of each boat crosses the line. Many times the margins are given in lengths. A length is a boat-length. Visually, it is easy to estimate the distance by boat-lengths. One boat-length would be when the bow (front tip) of one boat is about even with the stern (aft tip) of another boat. There cold be multiples and fractions of a length: 1/4 length, 1/2 length, 3/4 lengths, 1 1/2 length, 3 lengths, etc. At the Henley Royal Regatta after a race with a margin of 4 to 5 lengths the result is recorded as easy.

A boat length is relative to the size of the boat in the race. In an eights race, on length, about 58 feet, is different from one-length in a fours race, about 40 feet. When a boat is more than 1 length ahead, it is referred to as open-water. Ask your son or daughter is they won by open-water and they may be impressed, but then again...

When the margins are less than a length, then sometime people use seats as a measurement. A seat is the length of one section where the rower sits, approximately 4.5 feet. For example, the #2 rower in X boat was even with the #1 rower in Y boat, then X boat is one seat ahead of Y boat. You may hear that a crew won by three-seats, or about 13–14 feet. One more term is deck. The deck is the unmanned, covered bow section of the boat (about 10 feet for an eight). Again, it is a visual cue. When the bow-ball of X boat is barely ahead of the #1 position in y boat, then X boat is a deck behind Y boat. These desks were once covered with a canvas material an so the old term was a canvass rather than a deck. If you visit the Henley Royal Regatta, they officially record a deck length as a canvass.

Race times are recorded and it is usually a mistake to compare times from one race to another, or from a different day. An imperceptible difference in wind or current can make a noticeable difference in times. Maybe times can be compared in no wind or current conditions, but not much more than this.

Championship Regattas

A Championship Regatta usually will have a maximum of about six boats in a race at a time. Since Championship Regatta may have more than six entries, a system of selecting the faster crews is used. There will be qualifying heats to begin to sort the crews out. One format is the first or first few crews go directly to the grand final (1–6 places), the next or next few crews go to the petite (small) final (7–12 places). In another more final format, there will be repechage races to give the non-qualifying crews from the heats a second chance to qualify for the Grand and Petite Finals.

Head Races

In the fall season there are head races. The name comes from the traditional English race called the Head of the River. The first head race was the Head of the Charles Regatta in Cambridge/Boston begun in 1965. Now there are many. These are usually open regattas with many events defined in any way the regatta committee wishes to. A junior in one regatta could be anyone under 19 years old, in another it could be defined as high school.

The distance can vary, but usually in the 3 mile range. Sometimes the race course is over a winding river like the Charles. The race is a timed event with each crew starting in a single file and negotiating the race course as fast as possible. The start time and finish times are recorded and the elapsed time is calculated. The fastest time wins. Sometimes in masters events there is an age adjusted handicap. Crews passing each other is usually exciting, particularly on a narrow river or a tight bend. Crews don't really know how they placed until a printout of the times are posted.

Henley Races

Henley races are named after a style of racing conducted at the famous Henley Royal Regatta on the River Thames in England. The river is narrow at Henley so only two boats race and the loser is eliminated and the winner goes on to the next round. This format is popular for narrow and/or short race courses in the U.S.

Adapted from Bill Miller's Crew Parenting-101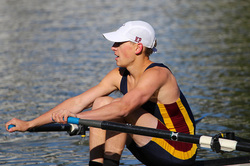 The US Junior National team is a great experience for racing, and broadening your rowing resume. It's also the perfect opportunity for you to set and work towards your personal goals. Teams are selected by attending an ID camp and to have competitive erg times to be invited. In order to submit your times you must be an individual member of USRowing. You can become an individual member by registering with
USRowing
and
USRowing Juniors
. Testing is done monthly and published online for college recruiters to see. Freshmen, sophomores and juniors, this is a great chance to have colleges start to look at you! Seniors, you have this one last year to make the Junior team... Try something incredible!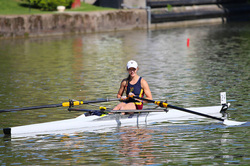 Students who are interested in rowing in college can register with
irow.com
through Vespoli and
Berecruited.com
to start the recruitment process. You will also want to familiarize yourself with the
NCAA
rules for Division I, Division II and Division III recruiting.