Boathouses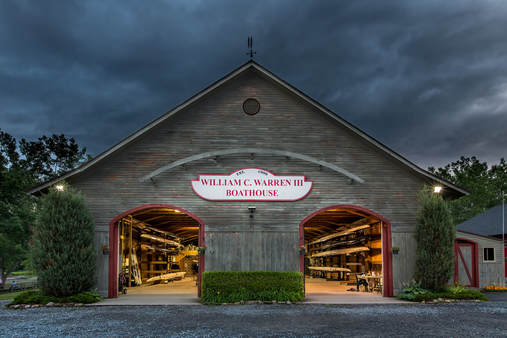 William C. Warren III Boathouse
Our boathouse was officially opened on Sunday, October 3rd, 1999 amidst great fanfare. We have been very fortunate to obtain the land, get the necessary permissions, obtain funding and make the dream of our own building into a reality. Our project began on May 10th of that year and continued throughout the spring and summer with many volunteers working to build this marvelous facility. The William C. Warren III boathouse honors a true champion of the Erie Canal. During his six-year term on the Canal Corporation Board of Directors, Mr. Warren insured adequate funding for the maintenance of the Canal and promoted the philosophy for the development which made the boathouse possible.

The boathouse, designed by Dan Pope and Rick Mauser, is almost 5000 square feet in size, large enough to house 20 of the longer fours and eights and a number of private singles. The house has a fully equipped and heated maintenance shop in which Brad Sayer, our boathouse master, can keep the fleet in optimal rowing condition. Bathrooms and a conference room are also in the building.

The boathouse was funded through the generosity of almost 200 donors, many lifelong friends of Bill Warren, and a number of civic-minded corporations that donated materials and expertise. Most of the construction was done on weekends and in the evenings by volunteers under the guidance of Rick Garrett of the James L. Garrett Construction Company and Brad Sayer.
---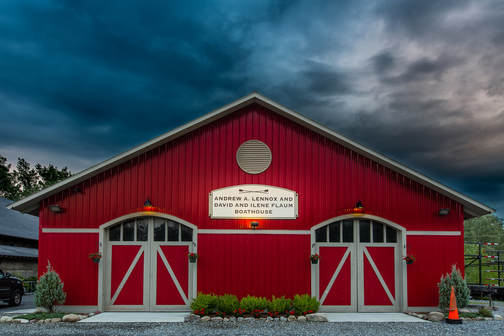 Andrew A. Lennox and David & Ilene Flaum Boathouse
The neighboring David Flaum & Andrew Lennox boathouse was completed in the summer of 2011. The Flaum & Lennox boathouse is 2800 square feet and houses the eights and fours of the
St. John Fisher Crew team
, which has rowed out of the Pittsford Crew boathouse since its start in the fall of 2011.
For information on renting boat space at the Flaum & Lennox boathouse, see the Boathouse Rental Space page.
---
BRAD SAYER

,

Boathouse Master ︱ bsayer@pittsfordcrew.org

︱ 585-586-1659

Brad is the Pittsford Crew Boathouse Master. He is responsible for site management, equipment repair and also manages the Pittsford Indoor Rowing Center. He can usually be found in the Pittsford Crew Boat Shop. When asked to use his talent of restoration his motto became

"A boat is just a 60' long piece of fine furniture!"

.

Brad is an Eastman Kodak retiree, having spent a career in Traffic Management and Procurement. His second job (of the heart) was restoring antique furniture and new furniture design and construction. He joined Pittsford Crew at its inception in 1997.
---
---