Pittsford Crew Competitive Rowing


Pittsford Crew offers club scholastic rowing at both the novice and varsity levels during spring and fall, additional rowing opportunities through Rochester Indoor Rowing Academy (RIRA) during the late fall and winter, and a conditioning program in the winter to prepare athletes for the spring. In the summer, Pittsford Crew offers
Learn to Row programs
to middle school and high school athletes from all communities in the Greater Rochester area. See our
calendar
for program dates, scheduled regattas, and other events.
Pittsford Crew subscribes to the USRowing's policy regarding conduct as described in their SafeSport campaign. That campaign is aimed at raising awareness, stopping child abuse in sport, and creating a safe culture in sports programs across the country.
Athletes for scholastic rowing programs must meet these requirements:
(These do not apply to our Learn to Row and Learn to Scull programs.

)
Age: Athletes in grades 9–12. Eighth-graders occasionally join in the fall, winter, and spring with the consent of the coaching staff.
Experience: Athletes must have attended a Learn To Row program or our winter program, or have previous rowing experience before joining Pittsford Crew.
Residence: Athletes must be either Pittsford residents or residents of neighboring communities/schools that do not have rowing clubs. The towns of Brighton and Fairport have community rowing clubs. Mercy and McQuaid have school rowing clubs. We encourage students who attend those schools to join their school's rowing team.
All new athletes must compete as novices for at least one season and no more than two (fall/spring or spring/fall).
After one calendar year from their first novice season, most novice athletes will move up to varsity, however, this is at the discretion of coaching staff.
---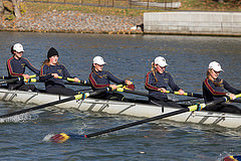 Our fall program begins the last week of August and concludes with our chilly, yet popular Pull the Plug Regatta in early November. Regattas and scrimmages are head races where boats race the clock one by one. Varsity and ready novice boats participate in near and far regattas.

There is one overnight regatta in the Albany area where both varsity and novice boats compete. Select varsity boats also travel to the Head of the Charles in Boston.

To compete in the fall season, athletes must have either previously rowed for Pittsford Crew or participated in a Learn to Row program.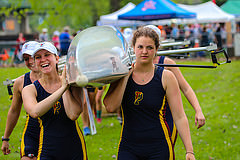 Our winter/spring program begins in January with winter conditioning and transitions to practices on the canal in early April, as weather permits.
The season concludes with our exciting Pittsford Regatta.

Winter conditioning is required for all athletes who plan to participate in the spring. Exceptions are given to athletes who have schedule conflicts due to school-related activities (sports, academic, musical, or theater) by notifying their head coach. However, athletes must still register by the deadline and join the winter/spring program at the end of their conflicting activity (with pro-rated registration refunds issued at that time).
Winter conditioning consists of tank, erg, and weight training at the Pittsford Indoor Rowing Center (PIRC), and strength and conditioning training at a separate site. The goal of this portion of the program is to keep rowers and coxswains who are not involved in other sports in shape for the spring.
We also offer limited spots to students in grades 8 through 12 who have no experience but wish to join Pittsford Crew in the spring. Please review our eligibility requirements above.
During this competitive season, our novice and varsity teams participate in a number of near and far regattas (Henley or match type races) and scrimmages. In May, we travel to Saratoga for two days to compete in the New York State Championships. Boats that finish 1st or 2nd are eligible to compete at the USRowing Youth National Championships.
Below is a short video with highlights of the 2014 competitive rowing season produced by Colin Ransom, varsity boys team.
---
Participation in athletics is both a privilege and a responsibility. Athletes earn recognition for their achievements as representatives of their school, team, and community. When an athlete accepts the privilege, he/she must live up to a code of conduct beyond that of the general high school student. As a prerequisite to participating in Pittsford Crew, athletes and parents must review a statement that commits the athlete to follow the established training rules and requires parents to do everything in their power to make sure their athlete abides by the established Athletic Code of Conduct. The current Pittsford Crew Code of Conduct and Attendance Policy can be found in the
Team Handbook
.
As with school-sponsored sports, rowing is a considerable time commitment for both the athletes and families. Practice is five days a week (approximately two hours/day), and attendance is required for all practices and regattas. Four to five regattas are scheduled on weekends throughout the season and require at least a full day commitment at the regatta site. Rowing is not like other sports. If a rower is missing, it not only affects the lineup of their boat, but has a related effect on the other boats and the entire team. Rowers are dependent on the attendance of the other rowers. When team members are missing, late for practice, or leave early, the team's ability to perform and possibly the health and safety of the other athletes may be compromised.
Participating in multiple time-intensive activities such as drama, dance and music programs, Scouts and even Drivers Ed, is not impossible while rowing but requires special motivation and commitment. Think carefully of all commitments at home, school and other areas of your athlete's life before he/she joins Pittsford Crew. The physical demands of rowing and potential for injury preclude concurrent participation in any other sport.
Serious consideration should be given about whether the necessary time commitment can be made before registering. Consequences of missing practices or regattas are determined at the discretion of the coaches.
Rowing has two primary seasons: Spring (March–June) and fall (August–November). Winter conditioning is required for all athletes who plan to participate in the spring.
Program fees, travel expenses and parent expenses will exceed $1000/year with travel costs, uniforms, etc. if the athlete participates in both seasons. Athletes and their parents also participate in a fundraiser each season to support our equipment fund, which repairs and replaces old or damaged equipment. Equipment costs are not covered by our program fees.
Because we are a volunteer-run club sport, parents are also required to assist during the season with fundraising, regattas and other committees. To run a safe, fun, and competitive program, we depend on the support of all of our families.
If you are interested in rowing and can make the necessary commitment, please see our
Registration
page for more details. (Note that for health, safety, and liability reasons, there are a number of required forms that must be completed and received as part of registration before an athlete is allowed on the water.)
If you have any questions about the above information, please contact the respective coaches (do not contact the Registrar). Contact information for coaches is found on the
About Us
section of this site.