Rochester Junior Rowing Club (RJRC)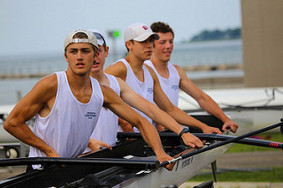 RJRC is a great opportunity to improve technique, gain racing experience through intense competition, foster friendships with rowers from other clubs, and have fun. This program is designed to raise the competitive level of its participants through intense specialized training and drilling with the focus on technique and racing skills.
Athletes may see an improvement in their 2K erg scores, but ergometers are used sparingly. Instead, priority is given to the quality and quantity of on-the-water strokes and starts taken. Athletes can expect small-boat rowing/sculling and video analysis to be essential elements in the program regimen.
Athletes in this program compete in regattas in New York State and Canada, including the Royal Canadian Henley in St. Catharines. (Passports or enhanced driver's licenses are required for Canadian regattas.)
RJRC is open to Rochester-area high school (9th grade through graduating seniors) rowers and coxswains who have completed at least one competitive season at the varsity level. Novice rowers may also be eligible. See the
Registration Details
page for eligibility information.
All sessions are held at the Pittsford Crew rowing facility.