Rochester Indoor Rowing Academy (RIRA)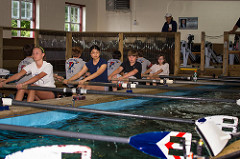 Our highly successful RIRA programs are open to Rochester-area high-school-aged rowers and coxswains to develop skills for on and off the water. Eligible participants must have completed at least one competitive season.

Programs run from mid-November through January and are held late afternoons and early evenings at the PIRC. All sessions are coached and supervised by Pittsford Crew coaches.

Because the programs fill up quickly, interested athletes are encouraged to register early.