Regatta Spectating
Team Members

Uniform
Pittsford Crew T-Shirt
Extra change of clothes (plastic bag for wet clothing)
Appropriate shoes - some regatta sites can be wet and muddy
Tools for rigging if you have your own
Hat, sunglasses
Sunscreen

Mittens/gloves
Warm, durable socks
Medications
Water bottle
Athletic tape/super glue for blisters
Money to purchase regatta merchandise

Families

Chair or blanket
Sunscreen
Insect repellent
Hat, sunglasses
Windbreaker, rain gear
Warm clothing for layering, i.e., pants, socks, sweatshirt
Water bottle
Binoculars
Book or other diversion (lots of waiting to be done!)
Camera
Fishing tackle (some places have good fishing while you wait)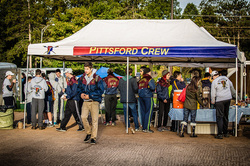 The setting for a typical crew regatta has you—the family—set up near the Pittsford Crew Hospitality Tent throughout the day. Its here that we prepare meals, and the rowers congregate when they're not tending to boats or racing. Most families bring chairs, as well as blankets, books, iPads, etc. depending on the weather and how you like to pass the time. It can be a long day. Usually the rowers need to arrive very early, and the last race can often be late in the afternoon. But we've gotten pretty good at passing the time, and most of it centers around great food! And watching the races.

At the Hospitality Tent, Pittsford Crew provides healthy food for the crew teams, coaches, parents and families at each of our events. Families of rowers are welcome (and encouraged) to take part in hospitality, but we do ask that families contribute a donation to cover costs of food. Set up, cooking, serving and cleanup are all covered by parent volunteers, which is a great way for you to meet other parents and our coaches and rowers.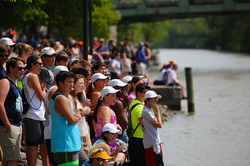 Typically, the boats will "go by" our tent. We'll gather at the river bank and cheer for them. Our tent is seldom near the finish line, but often spectators will take a walk and observe from there as well. But as far as seeing your rower's race… that's it… about 30 seconds of watching from whatever vantage point you choose. Then we wait anxiously for the results to be posted. Often we are able to tweet results from the Pittsford Crew Twitter Feed:
@PittsfordCrew
and upload photos to the Pittsford Crew Instagram
@PittsfordCrew
and
Facebook Page
.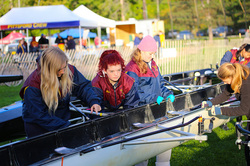 Some races (most of the fall regattas) are timed events (
"head"
races): boats leave the starting point, row like crazy, and their time is marked at the finish line. This takes some of the excitement out of the finish line vantage point, as you really can't discern how they did. In the spring, most of the races are head-to-head (
"sprint"
races). You can go to the finish line to watch who finishes "by a nose"!
Parking at the regattas varies by venue. They all have ample parking. Sometimes its free, sometimes not. Sometimes you'll park fairly close to the tent… but often not. Plan to be able to carry whatever you bring for a bit of a hike.
Information for specific regattas is sent out to rowers and families by email as each regatta approaches. Additional information can usually be found on
Regatta Central
.