Boathouse safety rules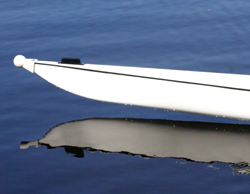 All shells must be equipped with a bow ball, firmly affixed.
All shells must have heel tie downs that meet the USRA requirements, or clog type shoes.
All shells that row in reduced lighting conditions shall have fixed, flashing lights bow and stern. Since head on collisions are much higher risk than a rear-end collision, we follow the convention of blinking red lights on bow, and blinking white on the stern. You can read more about technical details of lights below.
Boats should launch and land in the easterly direction (away from Lock 32).
Each rower should be aware of basic shell safety and check equipment before leaving the dock.
Traffic pattern: Counterclockwise, keep to the right. Use the right hand arch of the railroad bridge in both directions.
Give way to less maneuverable commercial and pleasure craft.
Be aware that some pleasure boaters are not familiar with rowing shells and you can be subject to large and dangerous wakes.
All scullers under age 18 must have a coaching launch or other adult supervision.
---
There are two goals for putting lights on rowing shells:
The primary requirement is to alert other watercraft to your presence so they can take appropriate action.

A secondary goal is to

not

reduce the dark adaption of other viewers, which would reduce their ability to see in reduced lighting conditions.
The optimal solution is flashing LED bike lights, in red or white. These are visible from over a half mile away. The lights should be set to flash to increase the probability that the viewer will not confuse these lights with other lights on the shore. Since you are not in the boat heading towards you, you can't guarantee that any sculler has turned around recently to notice you. Visibility from a long distance increases the chances that a boat traveling in the opposite direction will see you
before
they reach you. For two singles traveling at race pace, the closing speed typically means about 1 minute to close a distance of 500 yards.
Since head on collisions are higher risk (and likelihood) than rear-end collisions, we choose the optimal (red) lights for the bow. Flashing red lights are not as common as white lights, so we rely on the color coding to help viewers know they need to take appropriate action. There are also physiological reasons why red lights are better for this purpose (see comments below).
Other notes on LEDs:
If the light does not have at least two AAA batteries, it can not supply enough electrical power for any LEDs to be a sufficient warning light.
Some newer white headlight LEDs are available for bicycles and should not be used. These are so bright as to reduce a viewer's dark adaption. (See note below).
LEDs with fancy blinking patterns are useless. The LEDs need to blink in unison at a high frequency.
---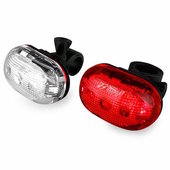 What to buy:
Amazon sells a low cost pair of lights, one white and one red, that meet these criteria. They go by the name "BV Bicycle 5-LED Headlight and Taillight," model number BV_L805. They can be attached by a metal bracket (see Brad Sayer) and mushroom tape. Mushroom tape can be bought from McMaster-Carr, part number 96055K23, Self-Lock Mushroom-Head Fastener, 1" Width, Adhesive Backing, Black, Strip. Cost = $3.33/ft.
A short comment about human vision and red vs. white lights:
There are two types of receptors on the human retina: rods and cones. Cones are used under normal daylight conditions and can determine colors from red to blue. Rods are responsible for night time (dark adapted) vision and do not detect colors. Rods are not sensitive to red light, but perceive only in shades of gray. When you use a red light as a warning, the cones allow the viewer to see the light. The red light does not over-stimulate the rods, and hence does not change the dark adaptation of the eye
after
the light stimulus is removed. This allows the viewer to maintain whatever level of dark adaption they previously had. The viewer is then more likely to see other clues, such as the boat itself or flashing oar blades, that let the viewer determine how far the boat is.
Read here
for more information from someone with a lot of practical experience on lighting rowing shells.