Board Members

DAVID WIANT, President
︱
dwiant@pittsfordcrew.org
︱
585-330-0033
David joined the board in the summer of 2014. He has two boys on the Pittsford Crew varsity team, Jack and Chase. After two summers of Learn to Scull and Learn to Row, both boys joined Pittsford Crew novice team in 8th grade. David's oldest son, Kyle, rowed for Pittsford Crew for 4 years and now rows at Boston College. David's wife, Betsy, has taught yoga to the entire Pittsford Crew team as a part of the winter season training. In addition to his duties as Vice President, he is the Regatta Director for our 2 home regattas and is Pittsford Crew's head photographer, capturing photos of all the regatta action. David has over 25 years of wireless industry experience, leading sales and operations teams throughout the Northeast.
---
LISA RILEY, Vice President
︱
lriley@pittsfordcrew.org
︱
585-315-6874
Lisa has been an educator in the Pittsford School District for the past 20 years and enjoys teaching at Calkins Road Middle School. She and her husband, Kress, have two children. Erin, a graduate of Pittsford-Sutherland High School started crew as a 9 th grader and fell in love with the sport! Justin, a senior at Pittsford-Sutherland this year, started sculling in 6 th grade and joined the competitive team in 8 th grade. Their love and dedication to this sport launched Lisa into an active role with the organization. She has been the Registrar and has served on various committees such as Personnel, Operations, and Facilities and Equipment. Lisa just completed a 2 year term as President and she will remain on the Board for one additional year as Vice President/Programming. Her primary role will include working with the coaches to develop and finalize programs offered at Pittsford Crew. Lisa enjoys walking on the canal, golfing, and yoga; she enjoys sculling on the Erie Canal when conditions are just right!
---

JOHN LEYLAND, Treasurer
︱
john6847@frontiernet.net
︱
585-261-5410

John joined the board as treasurer in the summer of 2011 as his son headed off to college. It seemed the perfect time to take an active role in helping Pittsford Crew bring the sport of rowing to the children of our community. He has also been pulling the boat trailer to our away regattas since the spring of 2008. John is an employee of Leyland Landscape and has had his own snowplowing business since 1986. Bowling and a leisurely drive in the country are some of his favorite activities.
---
JAY GOGGIN, Programming Coordinator
︱
jgoggin@pittsfordcrew.org
Jay is a native of Rochester and lives in Brighton with his wife, Sylvene, and two daughters, Danielle and Jamylin. Jay took an interest in crew when Jamylin began rowing in eighth grade, and he began towing boats to and from regattas in the spring of 2015. Previously, Jay volunteered on the board of the Learning Disabilities Association of the Genesee Valley. Jay is a Field Engineer for Foundation Design where he has worked for the past 18 years. In his free time, he enjoys boating and traveling with his family.
---

MARK WINKELBAUER, Hospitality Coordinator
︱
mwinkelbauer@pittsfordcrew.org
Mark has been involved with Pittsford Crew for the last few years. His son Brett was hooked on the sport after the Learn to Row program and is now a freshman rowing for the novice team. His daughter Paige is participating in Learn to Scull this year. Mark is a designer at Pictometry, who puts cameras in airplanes for aerial surveying. He enjoys everything water-related and will someday try to climb into a scull.
---
JEN COWIE, Volunteer Coordinator
︱
jcowie@pittsfordcrew.org
Jen and her family moved to Pittsford from Long Island in August 2012. She is a Sales Manager for the Tax and Accounting Division of Thomson Reuters. She and her husband, Bill, have three sons. William and Matthew are in 11th grade at Pittsford-Mendon High School, and Patrick is in 8th grade at Barker Rd. Middle School. William started rowing in 8th grade, and by 9th grade decided to crew full time. Jen is new to the board in 2016. She looks forward to her role as Volunteer Chair and assisting with other committees. Jen enjoys reading, golf, travel, and music.
---
KATHY CROWE, Fundraising Coordinator
︱
kdcrowe@me.com
Kathy has been involved with Pittsford Crew since 2008 when her oldest son began as a novice rower and has been on the board since 2010. She started as the Registrar and now is the insurance coordinator, fundraising chair, and part of the registration team for the two Pittsford regattas. Kathy has been rowing for two seasons and earned a silver medal as a novice in the spring 2016 Pittsford Regatta. She has since retired from competitive rowing but continues to row for fun. All three of her sons have participated with Pittsford Crew. Her youngest graduates in 2018 from Pittsford-Sutherland High School.
Kathy's husband, David, was the architect on the Flaum/Lennox (red) boathouse. Professionally, Kathy is an Early Intervention Special Education Teacher with Step by Step Developmental Services and a two-year old teacher at Christ Clarion Preschool.
---
KRISTIN RORAPAUGH, Merchandising Coordinator
︱
krorapaugh@pittsfordcrew.org
︱
585-203-7533
Kristin lives in Pittsford with her husband, Eric, and sons Magnus and Gunnar. She has enjoyed volunteering for multiple positions with Pittsford Crew since Magnus joined in 2014 and is now looking forward to her role as Merchandising Coordinator. She attended RIT for graphic design, worked as an art director at several advertising agencies in Rochester, served as a board member for the Women's Foundation of Genesee Valley, and has been actively involved with numerous committees at the boys' schools. Kristin loves mountain biking, downhill and nordic skiing, running, hiking, camping, and traveling.
---
PAUL BENNETT, Chair of Corporate Sponsorship & Development
︱
pbennett@pittsfordcrew.org
Paul joins the board after two seasons volunteering in the timing tent, and as his daughter Grace enters her third year with Pittsford Crew as a Varsity Boys' coxswain. When not cheering on Pittsford Crew, Paul can be found cheering on his daughter Nora and Pittsford Mustangs soccer. Paul is a Managing Principal with Acxiom Corporation and enjoys golf, running, and Buffalo Bills games with his girls.
---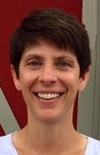 KRISTIN O'DELL, Board Member
︱
kodell@pittsfordcrew.org
Kristin has been an English teacher for fourteen years, nine of those years in the Pittsford Central School District. Rowing has been a part of Kristin's life since her husband, Jerry, introduced her to sculling when they met twenty years ago. She and Jerry have two daughters, Lauren and Jenna, who attend Victor schools where Jerry teaches high school Social Studies. Lauren has rowed since freshman year and is now a senior, while eighth-grader Jenna is participating in Learn to Row this year. Kristin has wanted to take on a more active role to help Pittsford Crew continue to grow. She loves to walk and run on the canal, read, and just relax with her family and her dog, Sadie.
---
MICHELLE BRYSON, Board Member
︱
mbryson@pittsfordcrew.org
|
585-360-7158
Michelle is grateful to have stumbled upon her first regatta in the spring of 2014. While out in the Village of Pittsford, Michelle, along with her daughter Annie, heard cheering crowds along the Erie Canal, became curious, and decided to check things out. From that moment on, they were hooked. Today, Michelle's two daughters, Annie and Addie, both row for Pittsford Crew and love it. Michelle and her husband, Dan, have since learned the difference between starboard and port and have enjoyed meeting other parents while volunteering. Most of all, they're thrilled to see their daughters love a sport and their teammates the way they do with rowing. Michelle is excited to apply her 20 years of strategic marketing communications experience to Pittsford Crew. Professionally, she is a freelance marketing/PR consultant and also a paraprofessional in the Pittsford School District.
---

ANN KABEL, PR/Media Relations, Communications
|
akabel@pittsfordcrew.org
︱
585-208-1225
Ann joined the board in Spring 2017 after volunteering for Pittsford Crew when her son, Nikolas, joined the Novice program as an 8th grader. Currently a Regional Marketing Director with UNO Restaurant Corporation, Ann has over 10 years experience in marketing, advertising, public relations and community outreach. When not gearing up for regattas, Ann is an avid cook who enjoys hiking and camping with her son, and can often be found biking the canal path during Crew practices.
​
---

CHRIS DIGIOVANNI, Registrar
︱
cdigiovanni@pittsfordcrew.org
︱
585-750-2977
Chris is a native of Rochester and lives in Pittsford with her husband Larry, son Jack and daughter Ashlyn. After Jack participated in a Learn to Row Camp, he quickly became interested in the club. After rowing for a year, Jack decided to try coxing and is now a Varsity Boys Coxswain. Watching Jack's passion for the club and desire to give back to the community encouraged Chris to join the board in the spring of 2017. Previously, Chris has volunteered for Pittsford Schools PTSA, Mary Cariola and has been a Girl Scout Troop Leader. Chris now works at Bright Start Pediatric Services. In her free time, she enjoys snow shoeing, visiting Nantucket and spending time with her family.
---

STACY LEYLAND,
Program Administrator
︱
staciavonn@gmail.com
︱
585-261-5411
Stacy Leyland is an elementary school teacher in the Rush-Henrietta School District. She joined the board after her son Cameron's novice year with Pittsford Crew. She is currently head of the Personnel and the Conduct and Discipline Committees. She served as Volunteer Coordinator for several seasons and is very appreciative of the commitment parents make to help Pittsford Crew run smoothly. Stacy and her husband like traveling with the team to away regattas and going to watch their son row at Skidmore College.
---

TODD PARKER, Program Coordinator
︱
tparker@pittsfordcrew.org
︱
585-236-9932
Todd joined the board in 2014 and has the role of the Head of Marshals for the Pittsford regattas. He spent over 21 years in Boston, moving to Rochester in 2001. Todd and his wife, Debbie, have both taken up rowing. Todd is an engineer and also has a business degree. He has worked in the world of infrared technology as well as custom optics. His son, John, has been rowing since the summer of 2011.
---

RICK & CEIL FEINS, Board Members Emeriti
Founders of "Friends of Pittsford Rowing," now operating as Pittsford Crew.
---